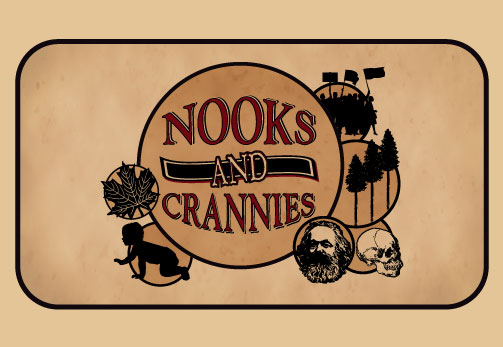 Welcome to Episode 22 of Nooks and Crannies!
Bond and Brexit w/Post-9/11 Cinematic Commentary
No intro this week, instead Evan and Matt decided to breakdown and tear apart James Bond movies for their misogynistic racism and overall campy vibes.
(10:31) Yes folks, Paul and Mamoo managed to wrap things up on our marathon Action Flick break down recording. Here we chat about Jurassic Park and of course matt has to show horn in Three Ninjas a Dub Pee exclusive must rewatch! (16:02) After this, Paul gives us some interesting thoughts and provides some compelling connections around the Post-9/11 era and its effects on Film and Culture, politics and society. Fascinating work Pauly, considering we were 2hrs deep at this point!!
(27:56) No one asked for it, except Mammo, so here it is…The Brexit analysis segment!! Evan explains all the dynamics, including needing to re-write their trade deals and general effects on the economy of Britain and the EU, why the Right has sold out to xenophobic isolationists, the Irish border (never heard this point made before, smart boy Evan is eh?), what effect if any this has on revitalizing the Left and the fellers finish up making some broader international connections. This is Evan's best segment so far in Matt's books…really good job buddy!
(45:53) And, Paul is back…we finish up for reals on Sin City and Ong Bak which is Paul's favorite type of movie, so we take a lil detour into Chinese martial arts films including the Final Fight scene of the Raid Redemption. We also answer the age-old action movie question; what happens when you send two goons in at once instead of one at a time?!?! Apparently, Tony Jaa will whoop you're A$$!
(Yes, I called him Tony Lau..Andy Lau, however, is one of my good friend's favorite actor of all time. This was how i got confused. Sorry Tony, please..dear god I am sorry!)
Thanks for joining us folks, be sure to hit share!
::::::::::::::::::::::::::::::::::::::::::::::::::::::::::::::::::::::::::::::::::::::::::::::::
Topics and Lighthearted Complaints
Find Nooks and Crannies on Spotify
:::::::::::::::::::::::::::::::::::::::::::::::::::::::::::::::::::::::::::::::::::::::::